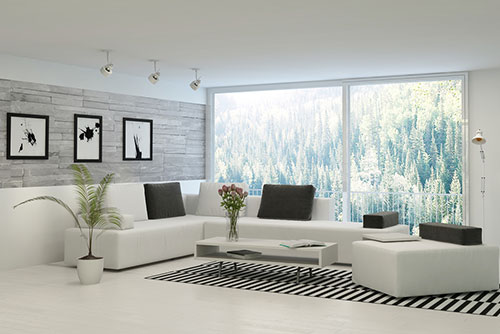 5 Inspirational Ideas for a Feature Wall
5 Inspirational Ideas for a Feature Wall
Are you fed up with your present décor? Have you thought about having something different in any of your rooms? You might like to think about having a feature wall – one that is not the same as the other three. There are many ways to provide a different look or feel to a room with a feature wall, and here are some ideas to inspire you.
1. Colour
The simplest way of creating a feature, is to use a different colour on one of the walls. This is where the colour wheel would be useful to help you decide which colours you would like to use. A bold contrasting colour works very well against a pastel or neutral room, or use one colour for the whole room with the feature wall being a darker shade than the rest.
2. Pattern
Another simple idea is to have three plain painted walls and one wall decorated with a patterned wallpaper. The possibilities here are endless.
There are lots of patterns to choose from, including small repetitive ones, big bold patterns, geometric patterns or those with a metallic sheen. Vertical stripes will make a small room seem more spacious, as the ceiling will appear to be higher. You might want to use something that has a completely different texture.
3. Mini Gallery
If you love having photos on show, why not make a mini gallery as a feature in your home. There are two spots that immediately spring to mind for presenting your photo collection. One is on a chimney breast over the fireplace. If that's not an option, you can use the space above the sofa to display your photographs.
4. Favourite Spot
If you have a favourite corner in one of your rooms, you can section that off by using a subtly patterned wall paper there, which contrasts with the rest of the room. You might want to put a comfy armchair and a lamp stand here, and use this as a quiet reading place.
5. Practical and Fun
There is also a practical option for a feature, and that is to have a blackboard wall to write or draw on. Having a blackboard can be very helpful in the kitchen, the office, a child's or teenager's room or the hallway.
Choosing what and where
If you don't have an obvious place for a feature, you can choose an area in the room that you would like to emphasise with a splash of colour, or just something a bit different. You might not have a separate dining area and so a different colour or wallpaper could bring a new atmosphere into that area.
You don't have to make a whole wall a feature if you'd rather do something on a smaller scale. You can have wallpaper or a complimentary colour behind a bookcase or some shelves. If you have panelled doors, you can make the inside of the panels as different to the rest of the door as you like.
There are many possibilities and if you don't already have a definite plan in mind, we are always there to help you. Call us at Absolute, on 07976 404 742 and we can go through a few ideas together.